Lightswing Hanging system
Adjust your interior without having to create a new light point? With Lightswing you can quickly and easily move, remove or exchange your pendant lamp. A unique, stylish and flexible solution! Available in a Single & Twin version.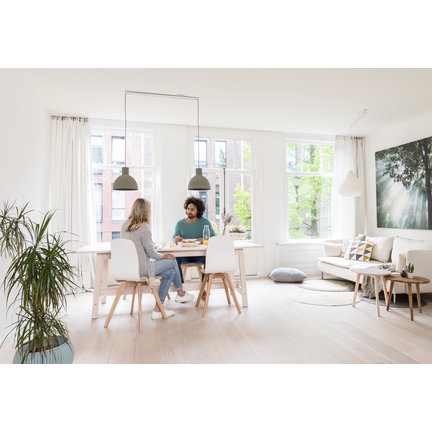 The Lightswing can move up to 80 cm in both directions and rotate 360 °. With the handy quick release at the end you can quickly change lamps or remove them temporarily. The Single is suitable for one hanging lamp (max. 3.5 kg). The Twin has a connection for two lamps at both ends (max. 3.5 kg per pendant lamp). With the adjustable feet you ensure that the Lightswing always runs straight along the ceiling. Both versions are also suitable for pendant lamps with a chain or steel wire, thanks to the supplied hooks.
Looking to add a matching lamp? Put together your own lamp with our individual parts. Choose from our wide range of iron cords and cables, lamp holders, lampshades and LED light bulbs. Everything for your unique lamp!