E27 Lampholders
At Kynda Light you will find a diverse and extensive range of different E27 lamp holders. With a smooth jacket or male thread. Made of plastic, bakelite, metal, concrete, silicone, wood or even porcelain!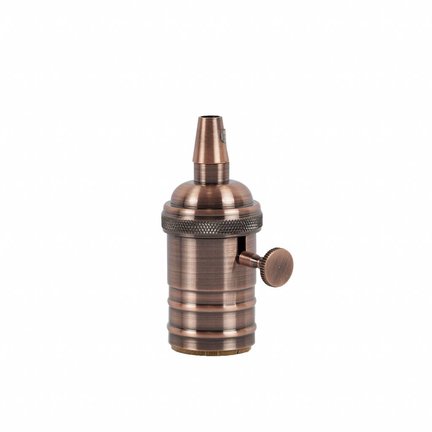 E27 lamp holders
The E27 socket is the most common 'size' among the lamp holder family. The number '27' stands for the inner diameter of the socket, which is 27 mm. A light source with a lamp base of 27 mm fits exactly in it. The 'E' stands for the inventor of the (incandescent) lamp: Thomas Edison.
Wide range of E27 fittings
At Kynda Light you will find E27 lamp holders in many types and designs. Whether porcelain, metal, concrete, silicone, plastic, brass or wood E27 lamp holders. They also fit at home in almost any living style: industrial, minimalist, sleek, Scandinavian or rural! Our E27 lamp holders are suitable for hanging lamps, standing lamps or wall lamps.
We also have E27 sockets that are suitable for lampshades. View our E27 lamp holders with male / outer thread.
Matching E27 LED lamps
Now that you have found a nice E27 socket, you may still be looking for a matching E27 LED lamp. You can also contact us for that! You can choose from various golden LED light sources, Titanium colored lamps or clear LED lamps. Do you want to remote control your lights? Then take a look at our E27 SMART LED lamps.