Wire frame (cage) lampshades
Make a wire lamp yourself with our cage lampshades! Combine with a matching fabric cord, light source, fitting and ceiling cap!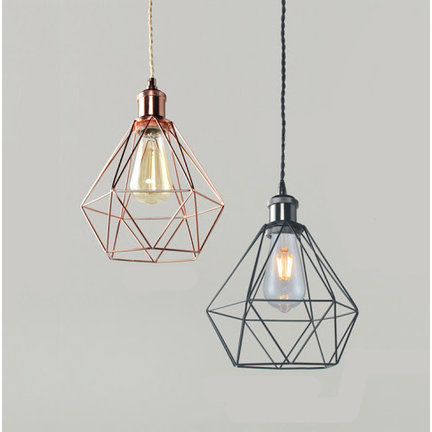 What is a wire lamp?
A wire lamp is a lamp that consists of a metal 'cage' frame. Where traditional lampshades are closed off with fabric or metal, a wire lamp is an open model. The sides are open, so you see the light source in the middle. In addition to this open effect, the light source also emits more diffused (atmospheric) light. Do you want to hang wire lamps above a (dining) table? Place several next to each other for sufficient light and vary in height for a playful effect.
Get started: make a wire lamp yourself!
Wire lamps are a hot item in interior decorating. And quite right! These stylish lampshades give your interior that finishing touch! They also fit into almost any style of interior: rural, industrial, Scandinavian or classic. It is all about which parts you combine this lampshade with!
At Kynda Light you will find various wire steel models (in different colors) that you can further combine with a fabric cord, light source, lamp holder with outer thread and ceiling rose of your choice. Or create a pendant lamp / wall lamp by combining it with a wooden wall mount, plug and cord switch. You can also opt for a dimmer for a cozy effect.